Back in March, when the UK went into full lockdown, we weren't certain of the future landscape at Fish Media. We knew we could safely work from home with technology at our disposal, but we didn't know how our client base would be affected. Luckily, we were needed more than ever as online solutions became even more important while the Nation stayed at home. One of our favourite clients* grabbed the bull by the horns and pushed us hard to launch a new retail website supplying craft beer locally.
We'd already designed the brand identity for Beer Metropolis which had been proudly displayed at their retail location in Little Eaton and on their wholesale delivery vehicles. The challenge for us was to transfer the quirky bold styling onto our fresh bespoke eCommerce platform. Working remotely and having daily calls with our client we managed to go live on May 11th 2020.
people rejoiced, balance was restored, the much needed beer supplies landed on their doorstep
Initially, the eCommerce website concentrated on mini kegs and beer in a box supplied from the hundreds of pub casks and kegs that Beer Metropolis had in cold storage. Most pubs were shut, they weren't buying beer so this was an essential service to ensure stock continued to move and best before dates were closely monitored.
We overcame challenges as they appeared, and when it was time to update stocks we sourced and set up a lightbox for Beer Metropolis to photograph and upload each product themselves.
They control every page of the online shop, create new brewery sections, new categories, run sales reports and synchronise stock levels to their Electronic Point of Sale (EPOS).
Fast forward to today, pubs are open again following social distancing restrictions and the Beer Metropolis website is now delivering craft beer nationally! They have branded beer boxes and specially hand-selected mixed cases available for discerning craft beer fans. We're super proud to be part of this journey and are working closely with Beer Metropolis to constantly tweak, develop and update the site based on customer feedback.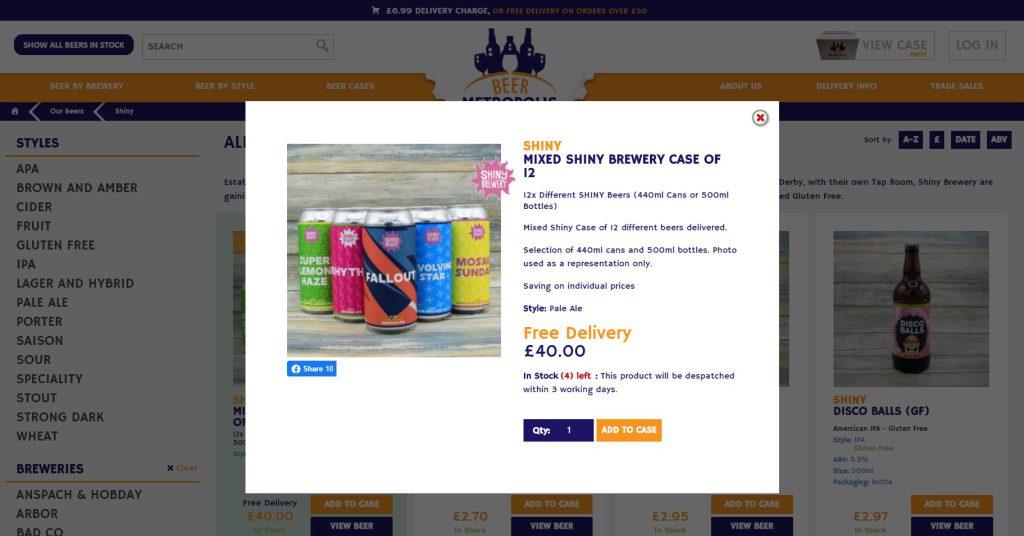 Head over to Beer Metropolis and have a look. I'd recommend the mixed case of Pales and IPA's which saves over 15% on individual prices and includes free delivery!
If you're interested in hearing more about our bespoke eCommerce platform Get in touch🙂
*we love all our clients but we especially like to work on jobs involving beer, bikes and campervans!